Cantonese Treats for Chinese New Year
Chinese New Year is right around the corner (Feb 1-15, 2022). It begins on a new moon, and the celebration ends on the full moon. Every province and region of China celebrates differently. Here are some Cantonese treats to try from your local Asian supermarket.
Cake… sort of?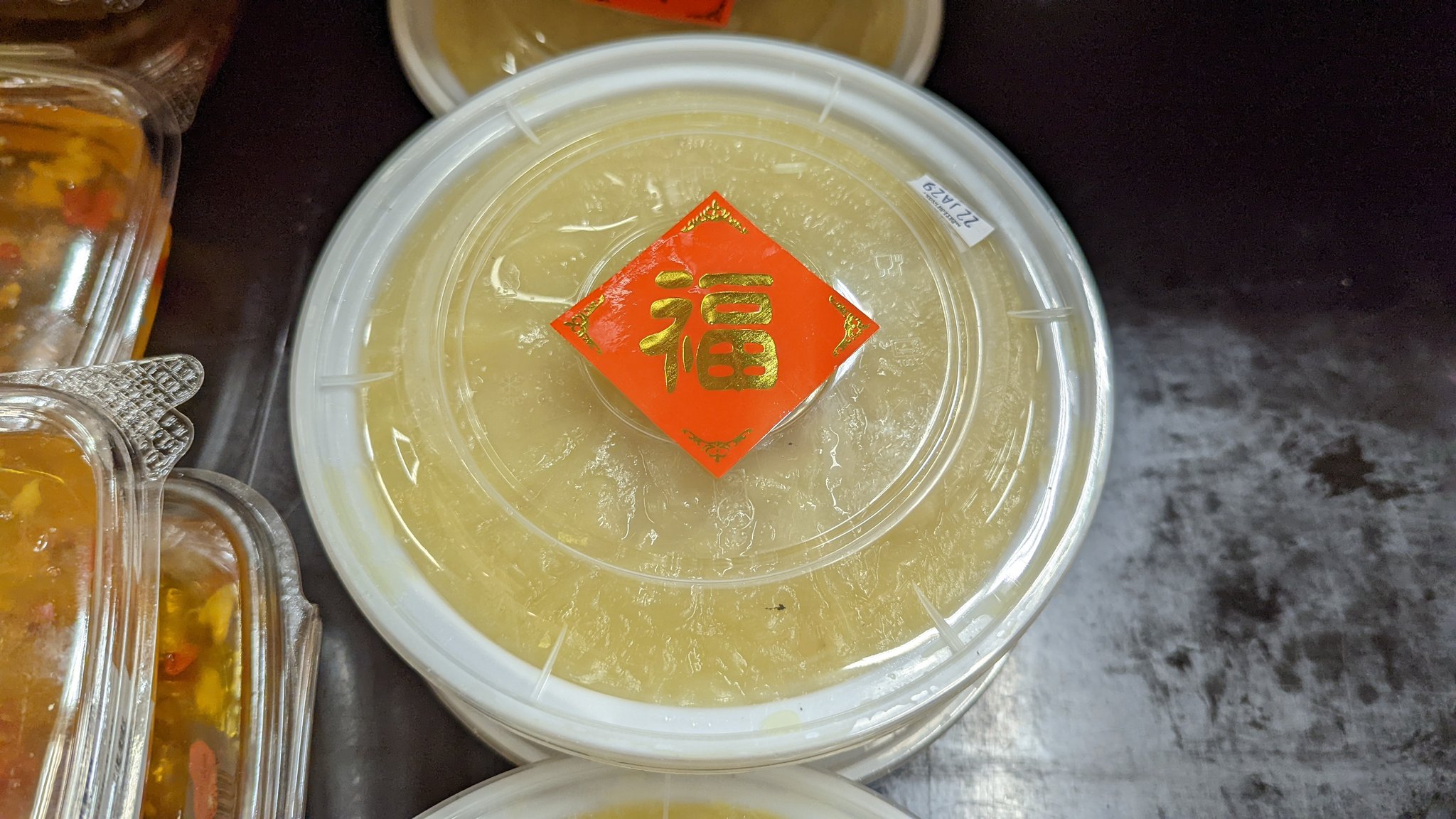 First of all, cake in Cantonese can may refer to cake/paste/jelly (糕) and even pastries (餅). So an English name with cake may be sweet or savoury (such as green onion cake). Water chestnut 'cake' (馬蹄糕) is often found as a sweet dim sum dish. Pan fry this in patties for best flavour, and serve hot.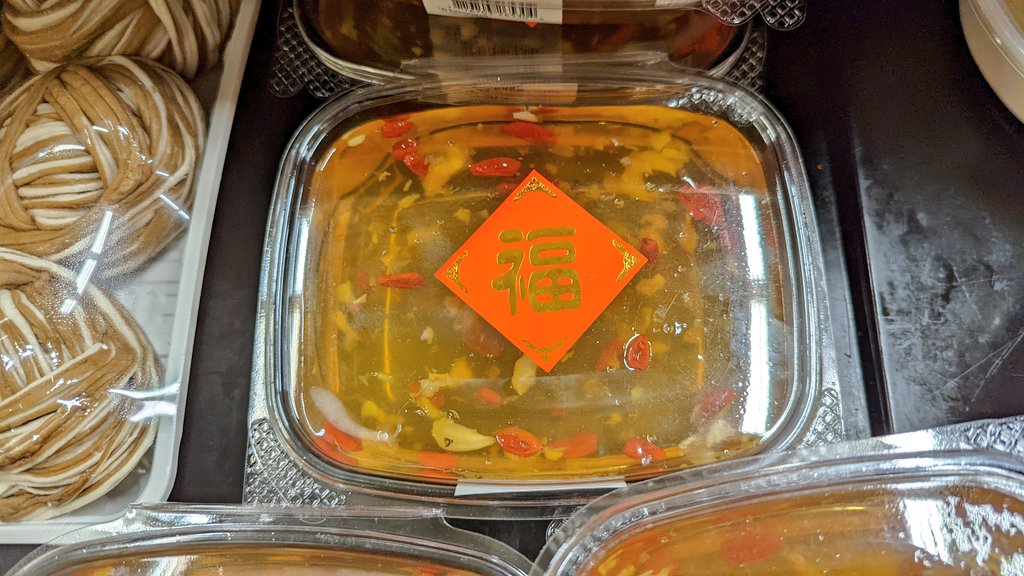 Osmanthus jelly 桂花糕 is another one of those 'cakes.' It's labeled as 'lychee jelly cake' at T&T because no one knows what osmanthus is. Osmanthus blossoms are added into a dessert with lychee & goji berry. Osmanthus 桂花 is a homonym/pun for 'expensive flower.'
Pastries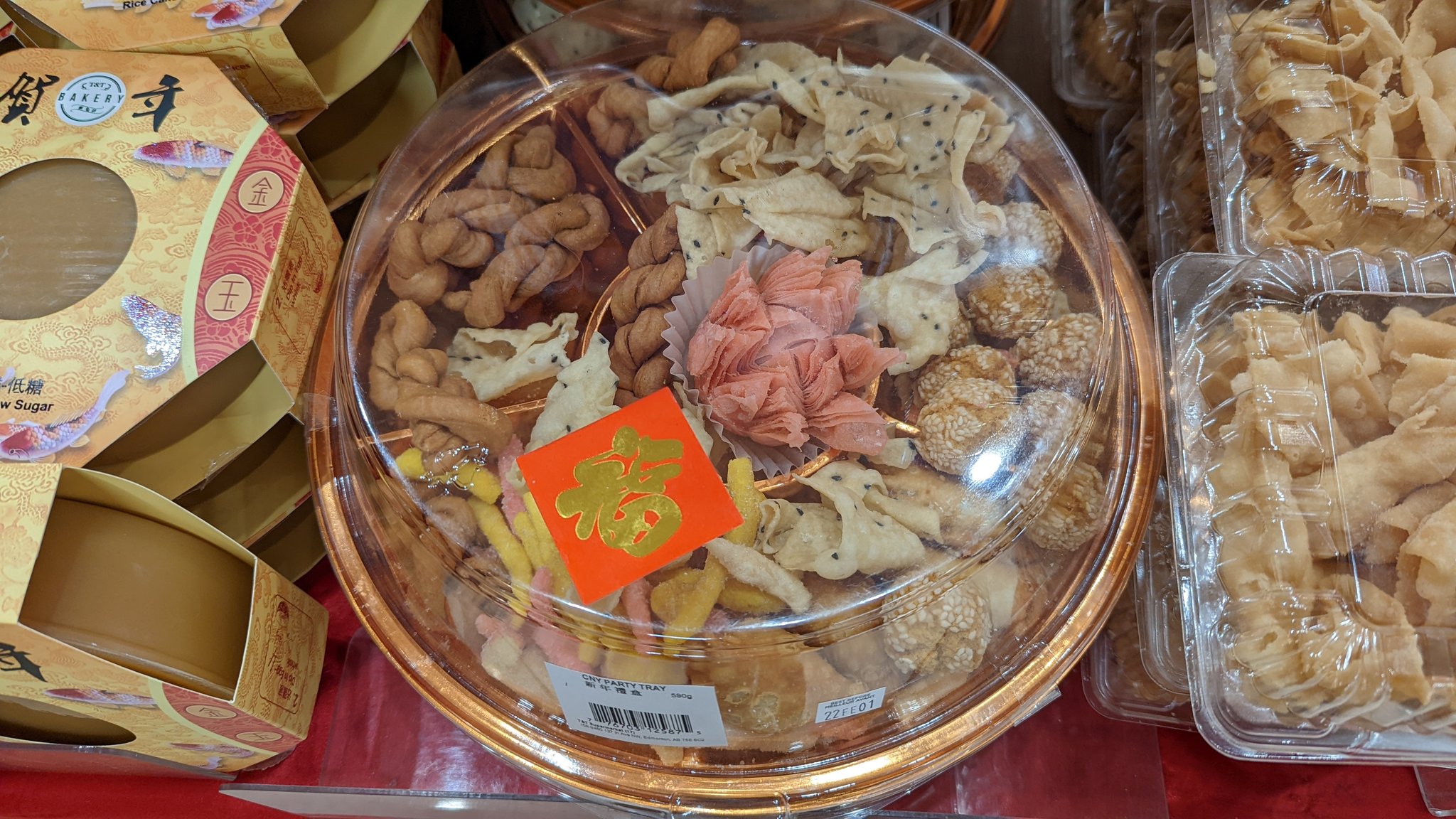 Dried pastries with peanuts and sesame are popular #ChineseNewYear treats, and often also found in the form of a treat platter. These platters are placed on coffee tables and entrances to entertain family and guests while the host is preparing a meal.
The most popular Cantonese pastries include 'egg rolls' 蛋捲, a rolled tuile biscuit which are sold in tin gift boxes during Chinese New Year, and máhjái 馬仔, a flour-based square similar to a puff wheat square in consistency, although that varies based on the brand.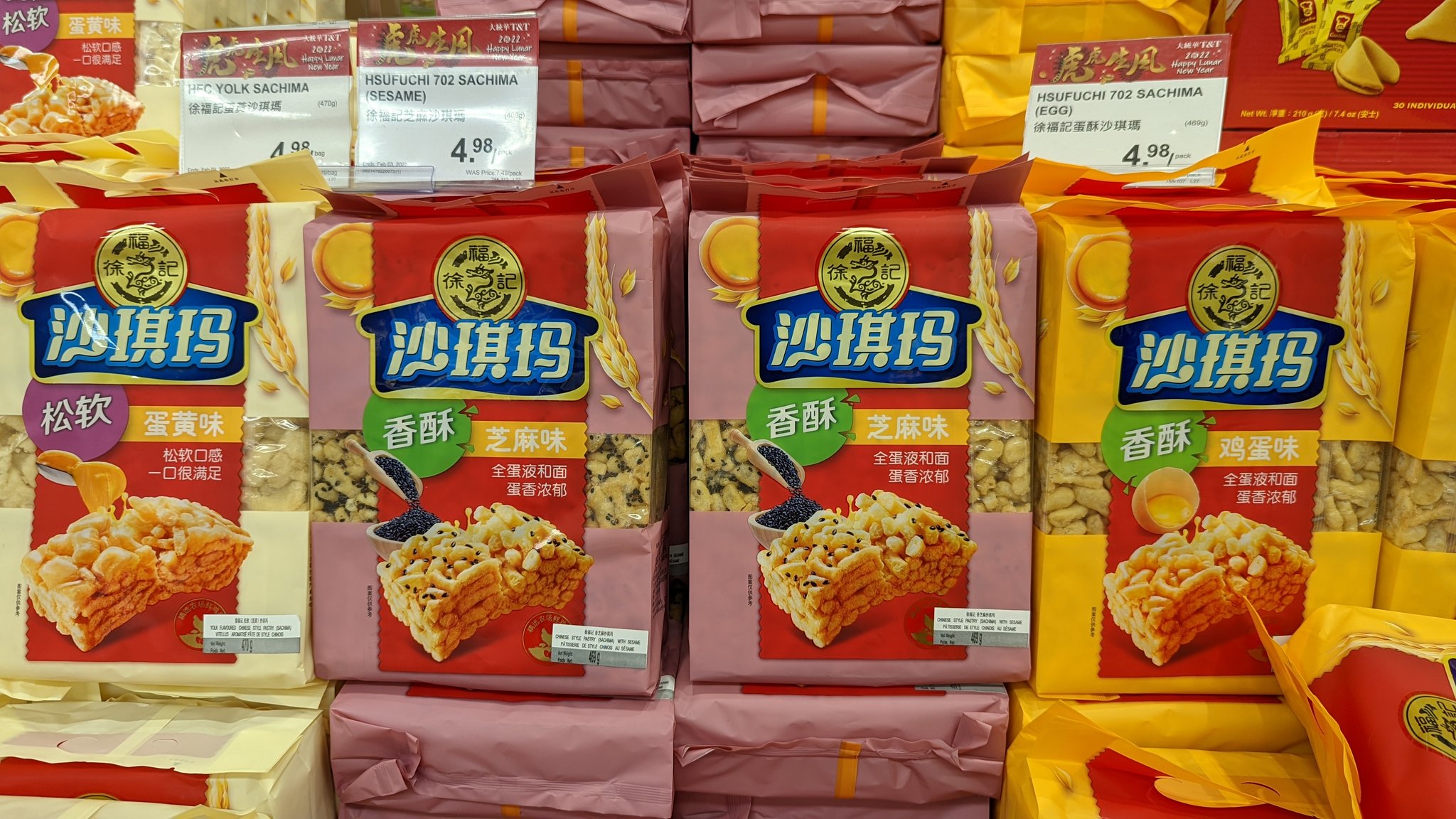 Dried Goods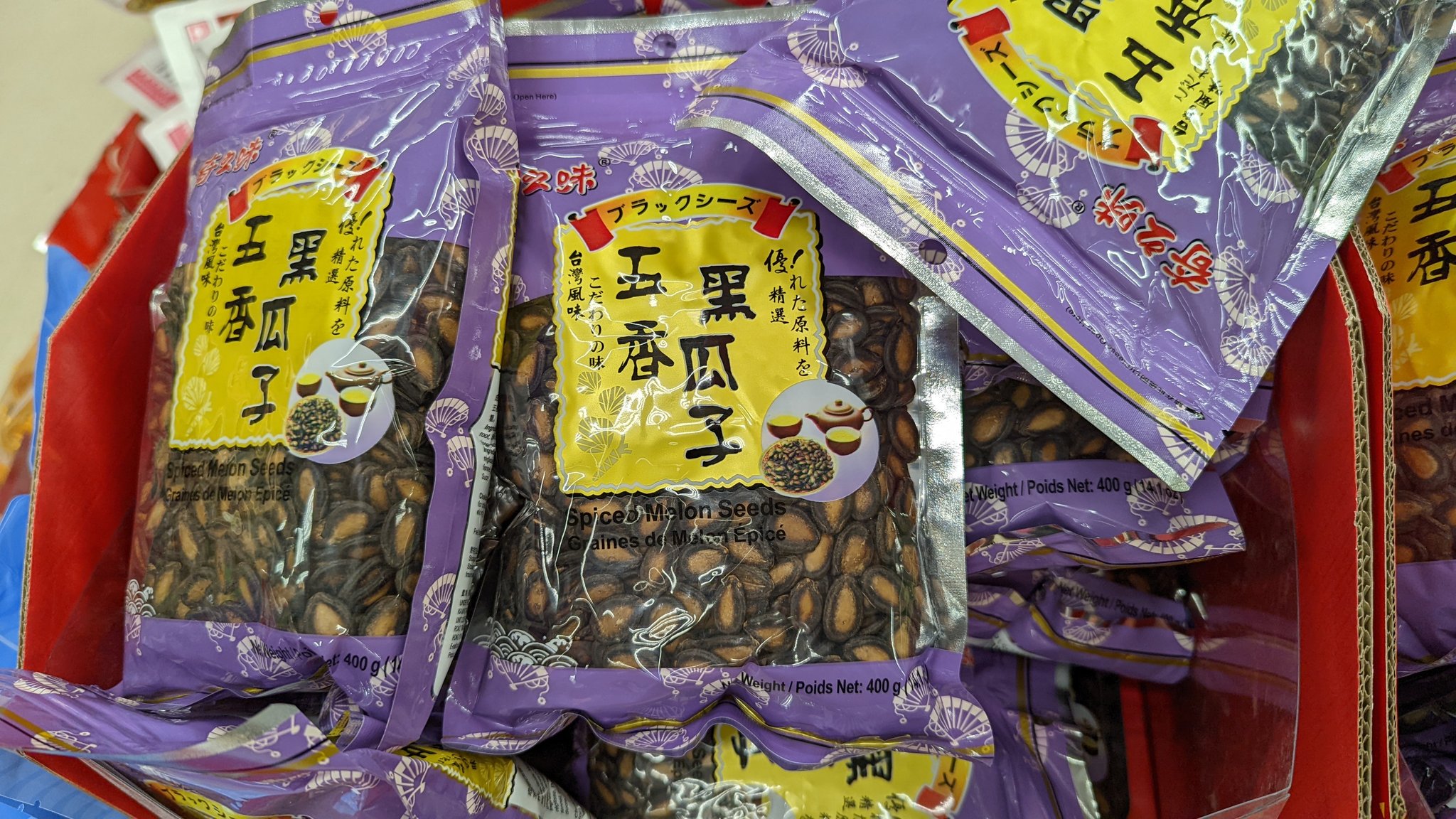 Nuts & seeds are popular items found in Chinese New Year treat platters. Roasted & salted melon seeds are a must try. Similar to sunflower seeds, you'll have to peel the shells. Red unsalted seeds are also available and add the lucky colour of wealth & happiness to the platter.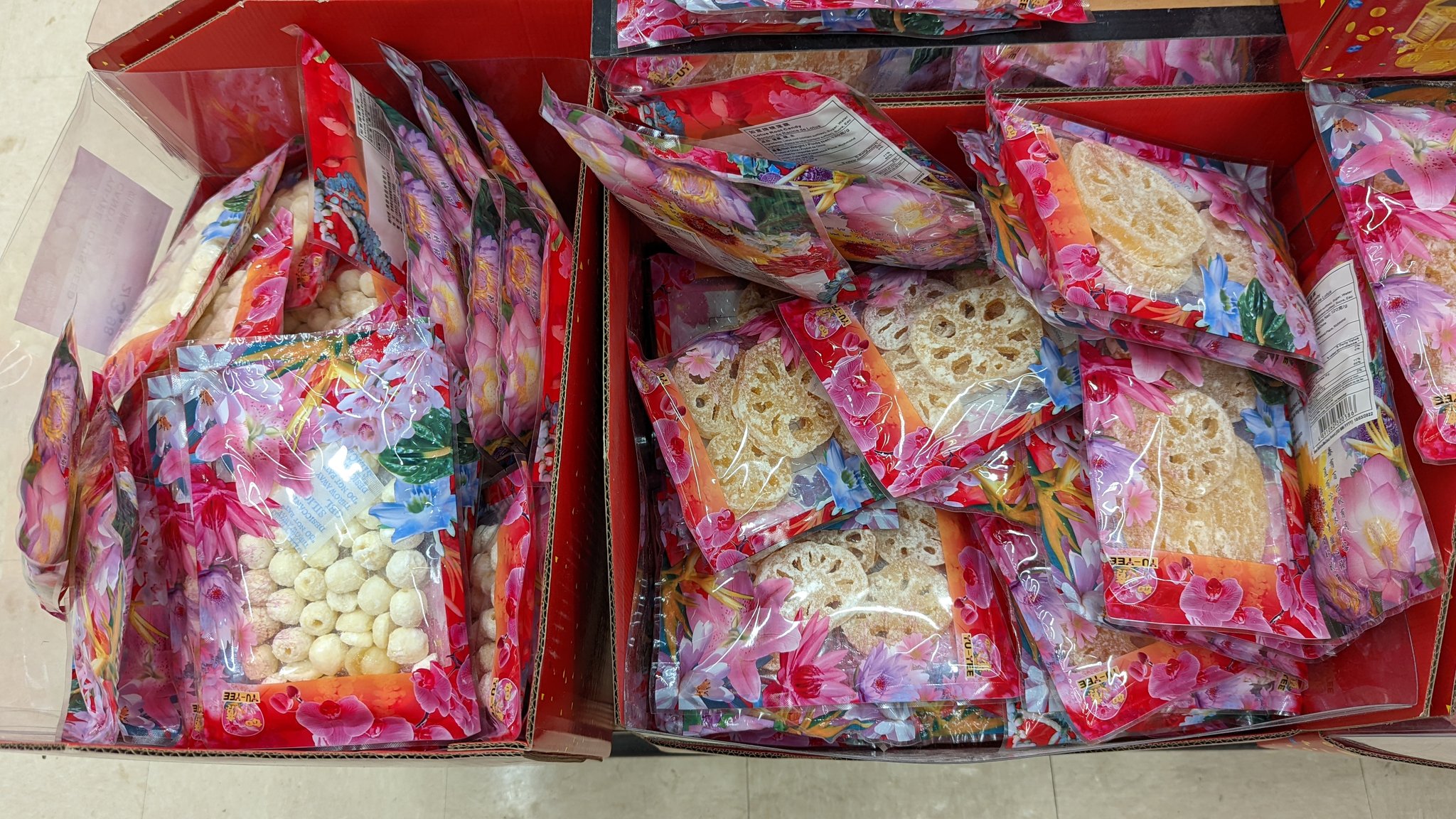 Other dried goods such as powdered sugar fruit (lotus seed and root in image) or bite-sized dried crispy seafood are treats which are for those who want to try something more unique. These are eaten in moderation as they can be quite filling, and more nutritious than chips and candy.
Candy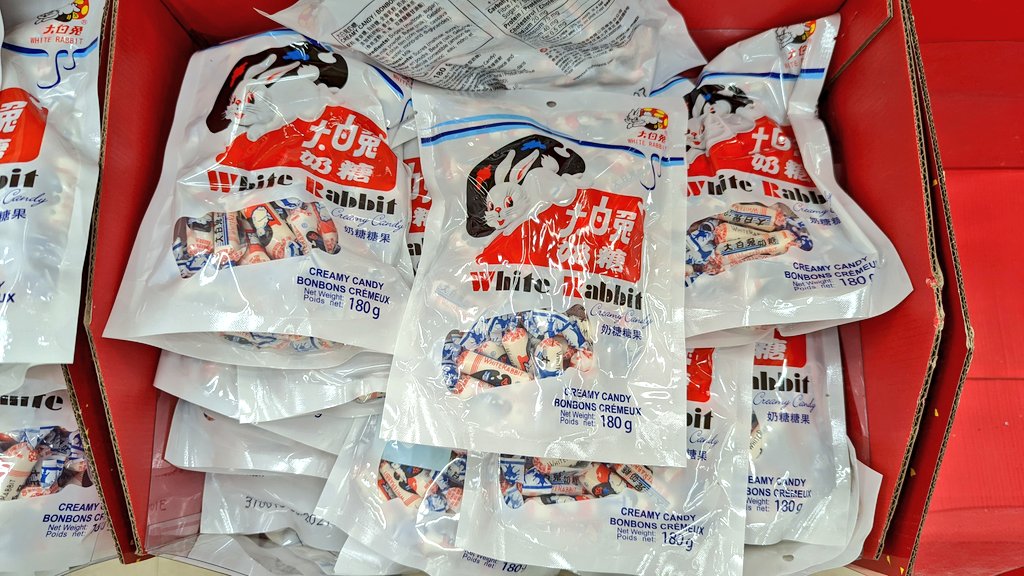 Chinese food names often confuse those who aren't familiar it. Item names don't consist of nor mimic food items, but historically used as marketing strategies before ads became popular. White rabbit candy is a creamy sweet chew wrapped in edible rice paper (within a paper wrapper). Kids often like playing with the candy by separating the rice paper from the candy and eating it separately. No bunnies were harmed in the creation of this candy.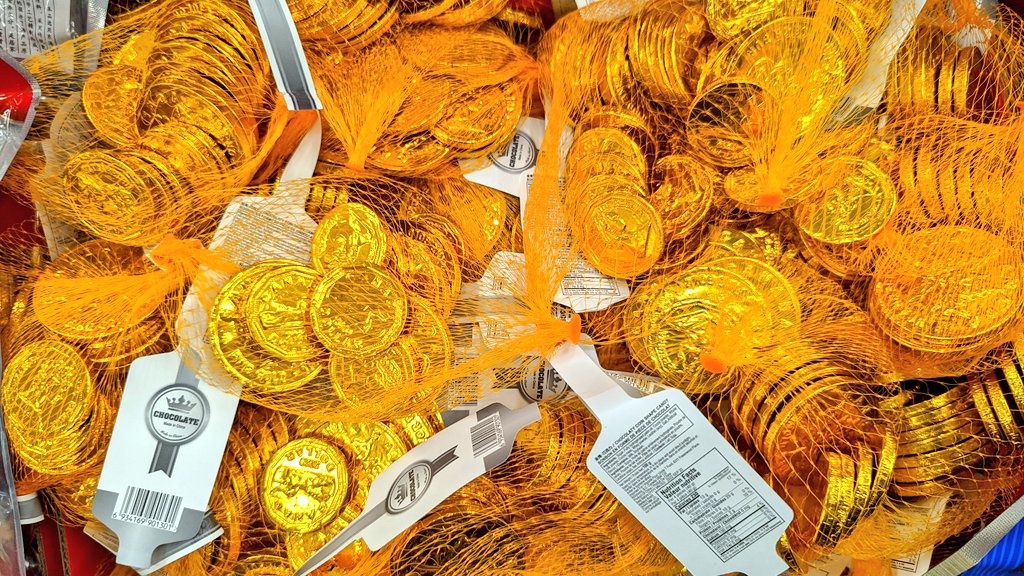 Candy is the item you can't skip out on when you're putting together a Chinese New Year treat platter. In Cantonese the name means 'candy box.' There's creamy strawberry candies which are packaged in mini red envelopes (not pictured), & gold-foiled chocolate is a great addition. Sugus is the Hong Kong candy standard for candy boxes. They similar to Starburst. Since they're only imported, Sugus 瑞士糖 (meaning Swiss candy), is hard to find and quite expensive, just like anything from Switzerland.
Tangerines
Tangerines/Mandarin oranges, similar to Dutch Christmas tradition, symbolize gold due to their colour (3rd image shows what a Chinese gold brick looks like). If you gift one to grandparents, pick a small one as Cantonese for 'very sour' 好酸 is a pun for 'good grandchild' 好孫。